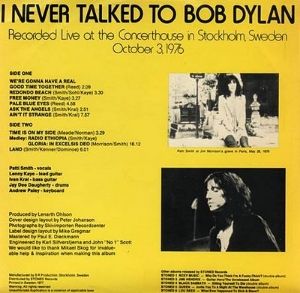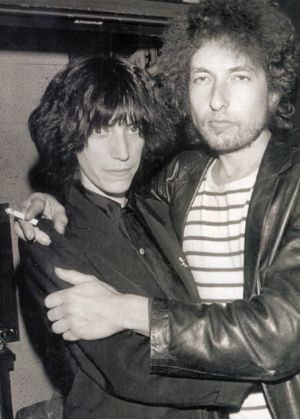 "
What must be recognised is that (Patti Smith) transcends bohemian cultism to be both positive & mainstream, even though her songs go past a mere flirtation with death & pathology. She just saw that it was time for literature to shake it & music to carry both some literacy & some grease that ain't jive. The combination makes her an all-American tough angel, street-bopping & snapping her fingers, yet moving with that hipshake which is so like every tease you slavered after in high school
." (from "Stagger Lee Was a Woman" by Lester Bangs, February 1976.)
Originally released by Stoned Records in 1977,
this
is what rock bootlegs used (& ought) to sound like. Recorded live at Stockholm's Konserthuset on 3rd October 1976, while Patti & her band were vehemently touring their cooly-received Radio Ethiopia L.P., I Never Talked to Bob Dylan contains the kind of urgent, exultant,
phlegmy
evocation of undefiled R'n'R gospel that, by the decade's end, would finally be excised by cocaine, commerce & slimy old men in satin bomber jackets. Blasting off with a euphoric charge through The V.U.'s "(We're Gonna Have A) Real Good Time Together"), it cherry-picks the high-points of what must have been a breathtaking show, & culminates in a shattering, empirical 17+ minute suite that one can only
imagine
is unsurpassable... until the climactic "Land" kicks in. And there's a bawdy cover of "Time Is On My Side" to keep the mums & dads happy too. Better of all, it
sounds
terrific - some kind of Scandinavian F.M. radio broadcast, presumably? Kick out the jams, motherfuckers...
"
Even if you couldn't understand a word of English you couldn't miss the emotional force of Patti's music.
It's that deeply felt, & that moving: a new Romanticism built upon the universal language of rock'n'roll, an affirmation of life so total that, even in the graphic recognition of death, it sweeps your breath away. And only born gamblers take that chance."
Mere weeks after this Swedish performance, Patti's God-reproaching bluff would be called during her spectacular neck-breakin' Florida tailspin. Quite honestly, I'm surprised that Arista didn't step in & put out a stop-gap live album of I Never Talked To Bob Dylan's inspired nature while she was recuperating - a massive mis-step in my opinion, as The Patti Smith Group's performances would never be quite
this
incendiary again.
●
Tick Tock, Fuck the Clock