23.11.13
Regrettably, I know next to nothing about Canada's Class Info but, if common consensus is anything to go by, their lone 1983 e.p. has come to be regarded as something of a Cold Wave classic.
The brainchild of Winnipeg's Jay Willman - who wrote, played & produced all 5 tracks herein (with a little help in the clapping & chanting dept. from assembled acquaintances) - the Insides e.p. was issued in a once-only pressing of 500 copies on the otherwise uncharted Classified label, & original copies currently change hands for £300+ on Discogs, et al. "Come For Me" & "Circle Game" (fortunately
not
the Joni Mitchell song) were also circulated as a very limited promo 7" which garnered the "band" some fleeting provincial celebrity but otherwise disappeared without trace. Musically, Class Info combined the claustrophobic broom cupboard synth-drones of early Fad Gadget with the soulful vocal stylings of Yazoo's Upstairs At Eric's whilst retaining a solitarian punk-informed edge, placing them somewhere between Our Daughter's Wedding & The Screamers, I suppose?
More recently, "Out of Line" was picked up by the
Minimal Wave
label for inlcusion on the second volume in Veronica Vasicka's essential Tapes series &, after a protracted 30 year lay-off, Mr. Willman has begun making music again as
Karma180
.
●
Made in Canada
1.11.13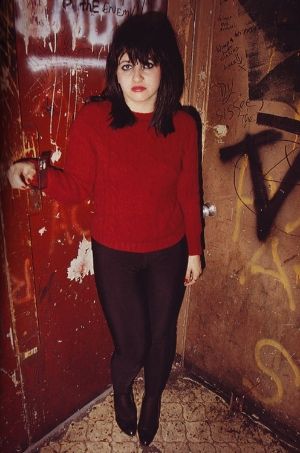 This is not - repeat: NOT - the same performance that Ms. Lunch issued herself c/o Widowspeak a few years ago. The line-up on this one - recorded a month prior on 8th August 1977 at New York's legendary / notorious Max's Kansas City - is early enough to still feature soon-to-be Contortion James Chance's knots of honking sax & (
gasp!
) occasional vocals. A quartet at this point, The Jerks' line-up hereon was completed by Reck (bass) & Bradley Field (drums), alongside Lydia's witheringly acerbic guitar-&-vox offensives.
It's not difficult to understand why Lydia ultimately ejected Chance from
her
band - they sounded surprisingly like 8 Eyed Spy (a later, slicker Lunch-piloted amalgamation) while he was on-board, & far more mannered - "
musical
", even - than the blood-soaked shards of electrically-charged clangour they'd subsequently whip up without him. That said, the Chance-fronted "Jaded" is arguably the highlight of this particular set, as is his customary fracas with a member of the audience.
Tracklist:
My Eyes / Don't Talk About Love / Popularity is So Boring / Burning Rubber / I Woke Up Dreaming / No Morality / Jaded / Less of Me.
● NEW LINK! The forks are plastic & I puke elastic