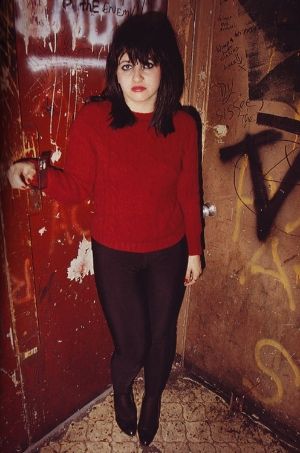 This is not - repeat: NOT - the same performance that Ms. Lunch issued herself c/o Widowspeak a few years ago. The line-up on this one - recorded a month prior on 8th August 1977 at New York's legendary / notorious Max's Kansas City - is early enough to still feature soon-to-be Contortion James Chance's knots of honking sax & (
gasp!
) occasional vocals. A quartet at this point, The Jerks' line-up hereon was completed by Reck (bass) & Bradley Field (drums), alongside Lydia's witheringly acerbic guitar-&-vox offensives.
It's not difficult to understand why Lydia ultimately ejected Chance from
her
band - they sounded surprisingly like 8 Eyed Spy (a later, slicker Lunch-piloted amalgamation) while he was on-board, & far more mannered - "
musical
", even - than the blood-soaked shards of electrically-charged clangour they'd subsequently whip up without him. That said, the Chance-fronted "Jaded" is arguably the highlight of this particular set, as is his customary fracas with a member of the audience.
Tracklist:
My Eyes / Don't Talk About Love / Popularity is So Boring / Burning Rubber / I Woke Up Dreaming / No Morality / Jaded / Less of Me.
● NEW LINK! The forks are plastic & I puke elastic