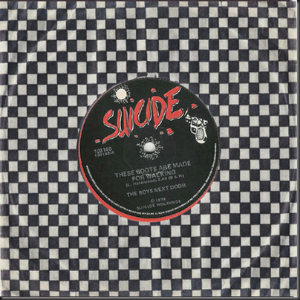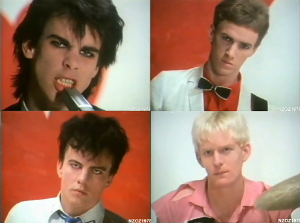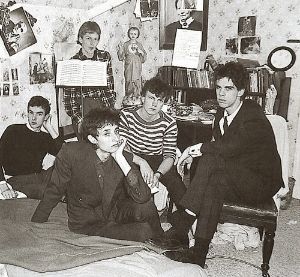 Classmates Nicholas Edward Cave, Michael John Harvey & Phillip Calvert formed the germinal Boys Next Door in 1973 while studying at
Caulfield Grammar
, a private boys school located amongst Melbourne's secluded suburbs. Principally a covers band & initially inspired by the flamboyant art-rock of Bowie, Roxy, Alice Cooper, & The Sensational Alex Harvey Band, their repertoire had expanded to include the sounds of nascent homegrown punks The Saints & Radio Birdman by the time they graduated in 1975-76. The Ramones' debut LP reaching Australia - & the addition of Tracy Franklin Pew on bass - provided the catalysts the band needed to drop
its
earlier artier material for a set dominated by faster self-penned new wave-style songs.
They released their inaugural 45, a somewhat gauche cover of Lee Hazlewood's well-trodden "These Boots Are Made For Walking", on manager Keith Glass' Missing Link label in March 1978 while still a 4-piece. Shortly afterwards, & midway through the recording of their (subsequently-disowned)
first album
, they were joined by the singular Rowland Stuart Howard on additional discordant guitar. Formerly a member of The Young Charlatans, Howard brought with him "Shivers", a deceptively sardonic suicide-ballad he'd written aged 16 that, when issued as a Boys Next Door single the following year, would be banned by Australian radio for it's provocative lyric. The Young Charlatans' original version of "Shivers", though unreleased at the time, would eventually emerge on Brian Milne & Andrew Maine's renown cassette-zine Fast Forward in 1981. Consequently, Milne would launch Melbourne's crucial Au Go Go organisation, home to The Scientists, The Moodists, Little Murders, Frontier Scouts, Dorien Grey, & countless others.
Of a similar terminal '70s vintage - their oft-compiled "
Scatterbrain
" gig freebie aside - are the jittery "Masturbation Generation" (an outtake from the "Boots" session) from Suicide Records' Lethal Weapons sampler LP of Aussie-punk, & "Enemy of the State" (which was posthumously included Missing Link's 1982 cassette compilation, From The Archives). The latter, an amusingly coarse samizdat-thrash, appeared under the puzzling anagrammatic pseudonym Torn Oxboeys (n.b. I've included both songs below, though the latter is a very poor quality rip).
In mid-1980, with Glass' financial backing & the adroit creative support of studio engineer Tony Cohen (who'd maintain a connection with Cave into the 21st century, producing 2001's No More Shall We Part), the band changed their name to The Birthday Party (alluding to
Harold Pinter
) & relocated to London.
Ta-da.
● This house is on the list