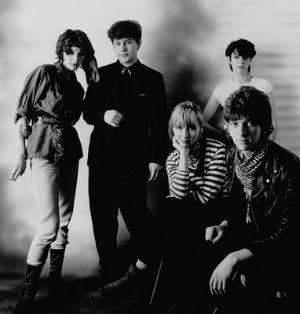 I had a real problem with See The Whirl when I was younger. By the time I'd "discovered" them, the Delta 5's original run of inspirational Rough Trade 45s was already held in high esteem & this, the only full length record they released during their brief tenure, had been written off as a compromised, embarrassing major label failure, & I was one of it's many dissenters. Nowadays, predictably, I beg to differ...
Delta 5
were the third, lesser known wing of the Leeds University art school post-punk triumvirate, alongside
The Mekons
&
Gang Of Four
. Inspired by the formers' galvanising concept of "
spontaneous amateurism
", all 3 bands gestated in catalytic tandem, initially sharing a rehearsal room, instruments & a homemade p.a. system. Additionally, D5 bassist Ros Allen played in an embryonic version of The Mekons, while Mekons' guitarist
Jon Langford
doubled up with the D5 at a handful of early shows & designed some of their sleeves. It was this fledgling line-up's demo tape that caught Geoff Travis's ear & led to Rough Trade releasing the D5's defining "Mind Your Own Business" 7", a mutant 2-bass dancefloor throb that combined the GO4's conversational left wing ideologies & abrasive punk-funk with the radical feminist dialogue & amateurist "make-do" collectivism of The Raincoats.
Following a couple more well-received R.T. 45s & a triumphant American tour (with GO4 & Pere Ubu), the band left Rough Trade for PRE, the "
cool
" subsidiary of the terminally un-hip Charisma label (home of Genesis & Lindisfarne) who had already poached (&, some might say, debilitated) The Scars, Tuxedomoon, & The Monochrome Set from the independents. Though the band's attempts to engage with a larger audience made complete sense (
GO4, remember, were much bigger in America than at home by this point
), the commercial concessions demanded by Pre were more than likely doomed from the outset. Though lyrically as barbed & articulate as ever, it's polished production meant that the resulting See The Whirl LP being quickly dismissed as a bowdlerised & bloodless affair by band, fans & critics alike. Embellished with all manner of "unnecessary" additional instrumentation - & featuring Bad Manners' horn section on several tracks! - it sounds (on reflection) like a Marxist Haircut 100 in places, though the fractured guitar discord of old still simmers beneath it's lavish veneer (on the
lacerating
"Journey", for example - possibly my favourite D5 song). A disillusioned Delta 5 fell apart shortly thereafter, releasing a final single, the oft-overlooked "Powerlines", before retreating into obscurity. Typing this, it feels like I've read heard this story a thousand times before: best intentions, scuppered by a predominant obligation to
recoup.
Surprisingly, Kill The Whirl has never been reissued, though Seattle's
Kill Rock Stars
valiantly attempted to address matters with 2006's Singles & Sessions 1979-81 compilation - collating the Rough Trade 7"s, some Charisma-era B-sides & various BBC recordings to present an alternative, & much harsher, version of the PRE LP - the one the band themselves
perhaps
wishes they'd released?
N.B. Ros Allen provides several insights into the band's formation & break-up
here
.