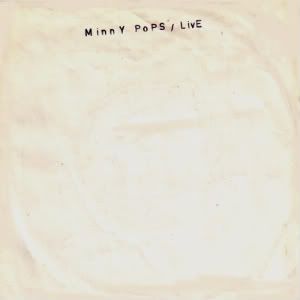 Somewhat unexpectedly,
Minny Pops
, one of the lesser known & least celebrated Factory Records acts, reformed towards the end of 2011, undertaking a European tour (including several British dates) early the following year. Even more surprisingly, they're still at it - though their line-up has changed considerably since they first reconvened. Arguably one of the final
important
bands from the germinal post-punk era to warrant serious reevaluation, & with current interest in minimal, cold wave electronica greater now than it's been for many, many years, one can only hope that Minny Pops' nervous, mordant music might finally be seriously reassessed & better understood, & that it might even find the audience it always merited.
Fortunately, their back catalogue has remained in print c/o James Nice's exhaustive & excellent
LTM
label. A handful of later, post Factory/Crepuscule album tracks aside, James has managed to track down, remaster & re-release virtually everything the band recorded in it's brief, frenetically productive lifetime. The one glaring omission, perhaps, is the band's early, difficult-to-find Live EP. Recorded at 2 Dutch shows (Delft & Amsterdam) in May 1980, it was rush released on vocalist Wally Von Middendorp's revered Plurex label following the success of their first English appearances - including a support slot at Joy Division's infamous
Bury "riot" show
on 8th April - & as a teaser for their first U.K. headlining tour that August. They'd record their debut Factory 7", the benchmark
"Dolphin's Spurt"
/"Goddess", with Martin Hannett during this return visit. Cut in a single day, along with The Names' "Night Shift" 45, "Dolphin's Spurt" has become their defining moment, though it's by no means their finest. They'd also find time to complete a John Peel session while they were back in the UK, allegedly the first Dutch band to do so - that can't
possibly
be true,
can it?