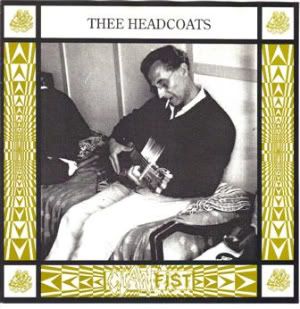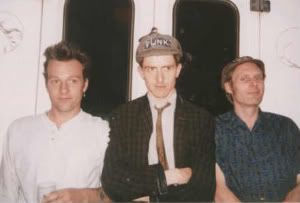 Next up, a savage 7" entry from
Wild Billy Childish
& his illustrious Headcoats (aka Bruce Brand & Johnny "Tub" Johnson).
Though 20 years old, "Pedophile" (Billy's spelling) remains a pivotal track in the Childish canon as, despite being an instrumental, it was one of his first recordings to explicitly address the sexual abuse he experienced in his youth. In the early 90s, struggling to come to terms with painful, long buried childhood memories, Billy bravely began to address his molestation in his writing, often in uncomfortably frank lyrical detail. His first novel, 1996's unflinching My Fault, grapples with these issues head-on, & though it's deeply unpleasant in places I have to admit that I liked it a lot.
"Pedophile" is, understandably, a
very
angry track, the absence of an accusatory lyric redressed by the band's searing (Link Way-inspired) performance & the sleeve photograph of the family "friend" who assaulted him. Now a dedicated
Buddhist,
Billy claims to have since forgiven his abuser, but this track
still
smoulders with a fearsome, barely contained hatred, 2 decades later. The b-side, the raucous "No Such Number", is a rallying cry against the corrupt & the mediocre, as are many of Billy's finest songs. The single was released in September 1992 as an installment of the Clawfist's subscriber-only 7" Singles Club in an edition of 1400 copies, all long gone.
Still fiercely prolific, Billy's painting & writing have both eclipsed his music the years since this 45 was issued, in the eyes (& ears) of the general public at least. His current work can be viewed & purchased c/o Clerkenwell's
L-13 Light Industrial Workshop
(formerly The Aquarium).