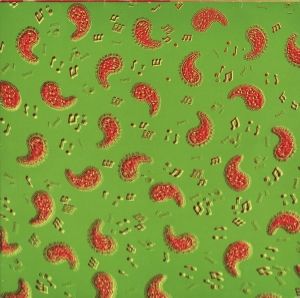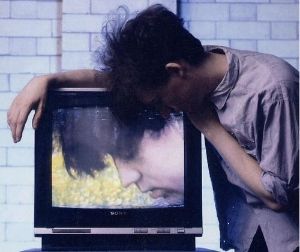 Jim & William Reid, long-estranged middle aged
enfant terribles
of the late '80s NME cognoscenti, unexpectedly reformed
The Jesus & Mary Chain
last year. They arrived back in Britain a week ago, following a slew of foreign dates, & tentative reports suggest that they're hellbent on playing their sole masterpiece - 1985's still unparalleled, ear-skewering Psychocandy - in it's entirety. 30 years ago they were, briefly, my favourite band -
I was still in my late teens, after all
- but I've not seen them perform live, or bought any of their records (their 1998 swan song, Munki, aside) since 1987. I'm actually quite excited at the prospect of seeing them again, no matter how unsightly a mid-rift (physically or musically) they might've developed since their student-baiting, p.a. upending heyday.
Cutmedeadnailmedownandkickmyhead was/is one of the earliest Mary Chain bootlegs, clad in a paisley-bedecked sleeve & comprising 2 complete, if characteristically succinct, 1984-5 shows. Specific dates & locations are not included (somewhere in England judging by the crowd's response) - the sleeve wryly suggests it was "
recorded live at Westminster Abbey
"- but the sound quality is superb (particularly on side 2), the feedback is utterly lacerating throughout (hooray), & their rarely aired Pink Floyd, Subway Sect, & Standells covers are all included.
There's no denying that they blew it with Darklands - a tactical retreat from pitiless white noise was (perhaps) understandable, but where were
the songs?
- but, for a fleeting, electrifying moment (captured in their early records & John Peel sessions, & at chaotic shows like these) it genuinely felt like The Jesus & Mary Chain might change
everything.
Which sounds hopelessly naive on reflection, of course.
Side 1:
In a Hole / Vegetable Man / Taste the Floor / Ambition / Barracuda / The Living End / Jesus Fuck /
Side 2:
In a Hole / Vegetable Man / Taste the Floor / Ambition / Inside Me / Barracuda / Jesus Fuck.
● Crack Johnny Crack