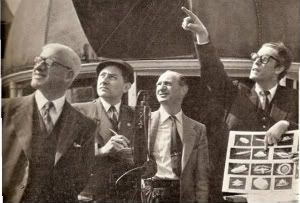 Type Desmond Leslie's name into Google & you'll more than likely unearth
this 1962 footage
of him clouting Bernard Levin, smug presenter of That Was The Week That Was, live on British television in front of 11 million viewers.
The eccentric son of an Irish baronet (who was himself a cousin of Winston Churchill), Leslie made his living as a Spitfire pilot & author (of bestsellers Flying Saucers Have Landed & The Jesus File) with a sideline in writing for the screen (Stranger At My Door, My Hands Are Clay). In the little spare time remaining, he pursued a simultaneous, far less lucrative career as a producer of early avant garde electronic music. Galvanized by Pierre Schaffer's experiments in electroacoustic composition, Leslie began constructing his own scores when the budget for a film he had scripted unexpectedly dried up, necessitating that he complete the soundtrack himself. His only LP, Music Of The Future, was recorded over a 5 year period - it's contents utilised in zero budget late 1950s potboilers such as The Day The Sky Fell In & Sacrifice B.C. 5000 - & was eventually pressed in 1960 as a one-off acetate. Thereafter, it languished in limbo for almost half a century, until
Trunk Records
finally stepped in & issued it in 2005. Interest was sufficiently great that it sold out it's limited vinyl pressing almost immediately, & even CD copies now exchange hands for £25+ a pop, hence it's inclusion here.
Though a frequently arduous listen, Music Of The Future is rarely less than entrancing. Considering it's age & Leslie's lack of conspicuous precedents, it's remarkable similarities to subsequent work by the BBC's Radiophonic Workshop are impossible to ignore. Portions of it remind me, often rather vividly, of those classic early kosmiche Tangerine Dream LPs (Zeit, perhaps), or post-Syd Pink Floyd at their most unhinged (Ummagumma, definitely).
Leslie died in 2001, a forgotten & misunderstood maverick from an era of our cultural history we British still tend to overlook. You can read an extensive Telegraph obituary
here
.