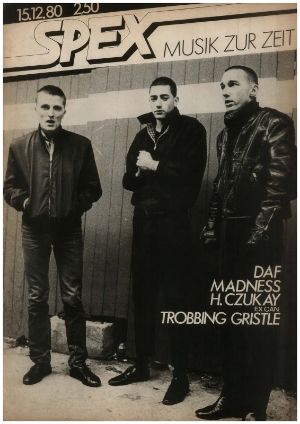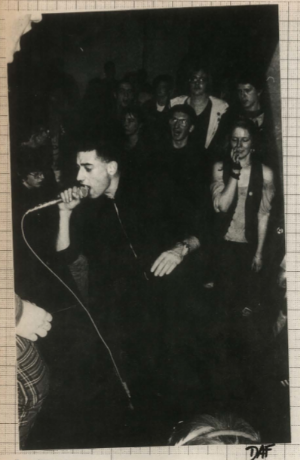 Düsseldorf's were one of the first underground bands I worshipped as a school kid. They seemed infinitely "cooler" than Devo, Squeeze, or New Musik (
because they
were
) - so much so that I took my copy of Gold Und Liebe with me to the barber at the end of the street so I could get my hair butchered into a council estate version of Robert Görl's utilitarian
haarschnitt.
They were another flock of beautiful mutants (Cabaret Voltaire, Fad Gadget, The Fall, et al) that I initially spied in Smash Hits (who adored them), & they were on the front cover of one of the first copies of the New Musicial Express I purchased too.
That said, no matter how much as I obsessed over their 3 Virgin Records LPs back then, it's the preceding Die Kleinen Und Die Bosen - incidentally the very first
long-player
on Daniel Miller's fledgling Mute label - that I found myself gravitating towards as my musical proclivities made a bee-line for the margins. At that pivotal juncture, with Wolfgang Spelmens still slinging out lacerating splinters of anarchic sheet metal guitar & Chrislo Haas's dazzlingly innovative pulsing synths to the fore, they were an anarchically brilliant live concern, as that record's second side - recorded in February 1980 at Camden's Electric Ballroom as support to Wire (the same show Documentary & Eyewitness was eventually collaged from) - ferociously corroborates. By the time they'd advanced to Virgin early the following year, Görl & Gabi Lopez had ruthlessly pared themselves down into a brutally efficient 2-piece industrial dance machine, were methodically applying a Stalinesque scorched earth policy (
I'm joking
) to all evidence of their guitar-toting past, & were primed to embrace bona fide pop-stardom at home in West Germany. "Kebabträume", their sardonic & ridiculously popular debut Mute 45 - performed 3 times (!) during this insurgent Bonn appearance - would be re-fashioned into an anthemic (&
moderately
more chart-palatable) rendition for their swan-song album in 1982. In Germany, at least, it would also be their final single, until reforming in 2003 (& again, for a 30th anniversary tour, in 2008).
Recorded while they were temporarily operating as a trio - Haas had already departed & Spelmans would follow before the year's end, making it one of his final appearances with D.A.F. before Die Krupps' Tina Schenkenburger was drafted in as on-stage tape op - this unreleased Bonn performance is far,
far
superior to Music For Midgets' semi-official & disappointingly messy Live In Berlin cassette.
Set-list:
Co Co Pino / Tanz Mit Mir / Der Räuber und der Prinz / Volkstanz / Ich bin die Fesche Lola / Nachtarebit / Die Lippe (early version) / Osten Wärht am Längsten / El Basilon / Kebabträume / Knochen Auf Knochen / Ich und die Wirklichkeit / Co Co Pino (2) / Die Lustigen Stiefel / Nachtarbeit (2) / 42.00 / Kebabträume (2) / Kebabträume (3).
● Ich liebe dich mich räuber