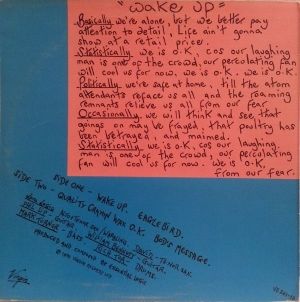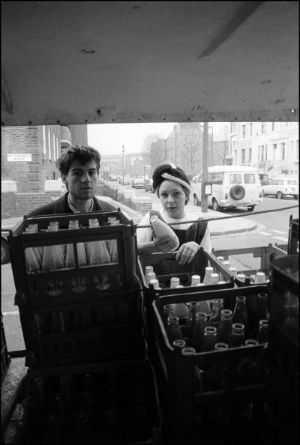 Essential Logic's brilliant but ill-fated Wake Up EP, the result of a curtailed deal with Virgin Records, was inexplicably excluded from Kill Rock Star's otherwise definitive
Fanfare In The Garden
anthology, due either - one assumes - to CD time constraints or R. Branson's annoying licensing department playing hard-to-get.
Recorded during William (Whiehouse) Bennett's fleeting reign as guitarist, Wake Up was quickly withdrawn (& the band quietly dropped) when the omnipotent Walt Disney corporation threatened litigation over the record's unsanctioned cover image. Though 3 of it's 4 songs were hastily re-taped for Rough Trade's frenetic Beat Rhythm News LP (included in it's entirey on the K.R.S. collection), the oiginal takes are suitably different - noticeably edgier performances, less fussy production, etc - to warrant their inclusion here. If nothing else, hearing them will almost certainly send you off in search of the rest of the band's oeuvre, which can only be a good thing - but don't forget to give Lora's work with Mayo Thompson's
frequently bewildering
Red Krayola a listen too (I'm a huge fan).
Bennett, incidentally, would meet pioneering electronicists Daniel Miller & Robert Rental in 1979 while the 3 of them were touring as part of
a multi-band Rough Trade package
& purchase a surplus EDP Wasp keyboard from them: "
an uncontrollably vicious beast of a synthesiser that subsequently became the heart of the Whitehouse sound
". And the rest is history, as they say...
Essential Logic also recorded a superb
John Peel session
around the same time as the EP, though it's not currently listed in the BBC's otherwise-comprehensive Keeping It Peel archive. Peculiar, eh?
Further rumination: "
Punk promised that you could become a new person. You could live a new life in a new world - & to live in it you needed a new name. It was late 1976 in London when 15-year-old schoolgirl saxophonist Susan Whitby answered an ad placed by a would-be "punk" band in the now defunct Melody Maker. The Band turned out to be X-Ray Spex, led by one Poly Styrene, who had left "Marion Elliot" on the sidewalk. Susan Whitby became Lora Logic.
Punk wasn't supposed to be "logical" - it wasn't supposed to make sense. The name set Lora apart, even as it brought her into the fold. It suggested a certain reserve, a step back, a raised eyebrow. As Lora lifted her horn & dove into Poly Styrene's songs - every one a critique of the world at large & the punk world spinning with it - that eyebrow never came down. When Lora was pushed out of the group & set about finding her own music, it jiggled.
In 1978, Lora formed Essential Logic & made "Aerosol Burns", which the ambitiously independent label Rough Trade sent out into the world. There was an EP with Virgin in 1979, headed by a fire alarm of a song called "Wake Up". A sense of danger & desire runs through the music like a wire: time is running out. Lora began almost every vocal singing high, her voice shaking, the shaking becoming a style, a point of view; then often her voice thickened, & she seemed to suck the fast pace of her band into her own doubt, or bounce it off her own frustration. With a small guitar-bass-drums ensemble, her saxaphone set the scene or led the sound out of it's circle - led it like a beckoning finger. (It) leaps with a stop-time dance beat, the vehemence of a woman insisting she will be as unexpected, as unwanted, & move as quickly, as she pleases.
Lora was on the edges of an experimental, avant-garde scene at Rough Trade, adding sax to a cut on the first Raincoats album, appearing with cult outfits Scritti Politti or Swell Maps, moonlighting in Mayo Thompson's reconstituted Red Crayola. On red Crayola's 1981 Kangaroo? she is absolutely unfettered, singing as if she's flying over the band, all but pulling it into the air with her.
Always, Lora Logic has made odd music. A punk band wasn't supposed to have a saxaphone in 1977. In 1980, avant-garde post-punk artists on Rough Trade didn't sound girlish, as if they knew a secret they'd promised not to tell. In Red Crayola, no one else knew to sing as if there were secrets they didn't know. In no (
other
) time have people been able to leave their time, giving you the feeling that the war raging outside your door is not real. But punk was, as Lora Logic put it last year, a time "when a lot of people got heard."" (Griel Marcus, 2003.)
Lora's only post-Essential album (so far), 1982's Pedigree Charm, found her exploring increasingly meditative, earthier sounds - befitting, perhaps, her blossoming interest in the Hare Krishna movement, to whom she'd shortly (& contentedly) devote her life. Following an arranged marriage in the early '80s, Lora reportedly ended up raising her children & pursuing a peaceful, spiritual existence in a manor house owned by George Harrison, a long way from
playing sax at The Roxy
to a herd of glued-up punks. And if that sounds like I'm sneering...
you're mistaken
. Frankly I'm rather envious.
n.b. The photograph of Lora & guitarist Phil Legg (aka Ashley Buff) was taken on Clarendon Road, Notting Hill in September 1979 by David Corio.
● Waddle ya play?