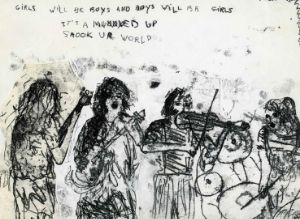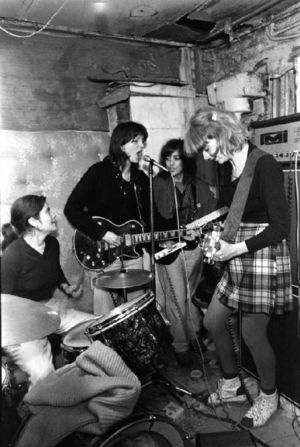 Early
Raincoats
live recordings are unusually scarce, & this one - which took place beneath the Westway at Ladbroke Grove's shabby Acklam Hall during their very first British tour - is the best I've heard. It was taped shortly before the release of their eponymous debut Rough Trade LP, & both Cabaret Voltaire & Switzerland's Kleenex were also on the bill I believe?
Needless to say, it's a cheerfully shambolic delight - spiritedly cacophonous in places, but concise & cogent in others. And best of all the vivacious
Palmolive
(aka Paloma Romero) was still clobbering the drums at this point. Fresh from her stint with the original explosive Slits line-up (with whom she co-wrote virtually all of the songs that would appear on Cut), she only remained with The Raincoats for the duration of this tour, jumping ship after a mere 6 months citing a growing dissatisfaction with the music business: "
I vividly remember after one of the concerts... watching people leave the venue wasted & with a sadness & heaviness about them, & I thought, I'm helping to make them like that... I didn't want to just go along with something because it was popular or profitable.
"
Though on their subsequent records (1981's quietly radical Odyshape for example) The Raincoats would very quickly evolve into something far more exploratory & profound, it's still difficult to ignore or deride the impassioned & vehement beauty of fiery live sets like this one. "
The Raincoats are so bad tonight
", remarked
Danny Baker
at the time, "
that every time a waiter drops a tray we'd all get up & dance
" - though that was possibly a backhanded compliment, bearing in mind he'd already eschewed the still-amorphous (post-)punk camarilla by then & was advocating tepid "working class" soul-boy clichés in the NME's weekly singles column instead
(big mistake, his loss, c'est la vie).
Set-list: No Side To Fall In / No Looking / Life on the Line / The Void / Lola (Kinks cover) / Adventures Close to Home / Off Duty Trip / You're a Million / Fairytale in the Supermarket / In Love / No Looking (encore).