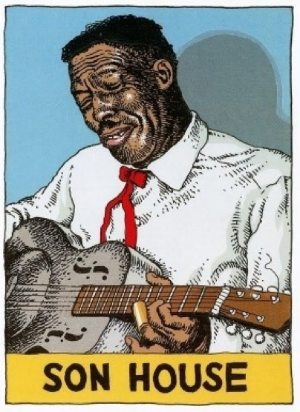 "
Several years ago when I was driving to Frank Freeman's Dancing School in Kidderminster with Captain Beefheart, the Captain told me that the person he most admired was Son House. And if somebody had told me two or three years ago when this programme started thatwe would be having Son House on Top Gear, I wouldn't have believed them, but we do & it's a joy that he is, because Son House basically is where it all began
."
Remarkably, Eddie James "Son" House Jr. was 68 years old (& still touring!) when he recorded this session for John Peel's Top Gear show back in July 1970. Transmitted on 11th July - producer John Walters' birthday - Peel appeared both delighted & somewhat flabbergasted to have Mr. House on his show - "
the nicest show we've had for as long as I can remember
".
Earlier that month, Peel had attended a Son House performance at Oxford Street's 100 Club & was reportedly furious that some factions of the audience were rude enough to talk throughout his set, culminating in Peel clambering on stage to reprimand the culprits, demanding they either be quiet or go home, & offering to personally refund the cost of their tickets so that the rest of the crowd could listen undisturbed.
The session was taped on 6th July at the BBC's Playhouse Theatre in London's West End, & was produced by Walters with engineer Pete Ritzema. A recording of the complete hour-long show is available online if you can be bothered to search for it - replete with further sessions from Kevin Ayers' recently-formed Whole World troupe & Bristol's best-forgotten East Of Eden.
Track-list:
My Good Gal / Monologue 1 / Death Letter / Monologue 2 / Grinnin' In Your Face.
(Son House portrait by Robert Crumb from his
Heroes of The Blues Trading Cards
series.)
●
Mississippi Department of Corrections