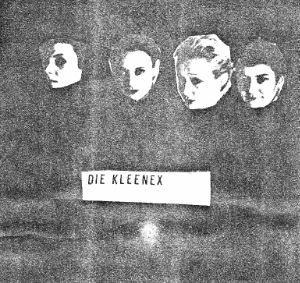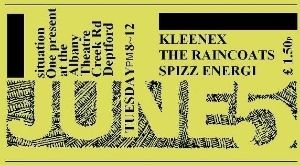 "
It was a small scene & everybody knew everybody. When we started, we just had four songs & we played for our friends. We played the four songs in fifteen minutes & they'd say "Go again! Go again!" so we'd play the songs again for four hours. We thought it would be fun to do the single with our four songs for our friends - the same four songs we would play at gigs for hours & hours until we got tired. Somehow John Peel got the E.P. & he played it over & over. Rough Trade heard it - they organised a tour for us in England. We were on a package tour with The Raincoats & Spizzenergi. It was a great experience.
In the beginning, we were just in Zürich & we never thought that we would go abroad. The Kleenex company found out about us & they said we had to change our name or otherwise they will call Rough Trade to destroy all the records & we couldn't sell them anymore. We had to pay thousands of Swiss francs for this so we had to decide to change the name. Also, Regula Sing left & then we thought we were city indians or small like Liliput, little girls
.
We had great support in Zürich, it all started with this youth riot. I was a bit older than the people in the riots, but it's a small town & there were these political questions & we had to say what we thought. We didn't have songs like "Fuck The System" like other bands had. We didn't throw stones & smash windows. We stood there & played songs. Though it sounds like nonsense words, it always had to do with the situation.
" - Excerpts from an interview with Marlene Marder by Jason Gross, Perfect Sound Forever, May 1998.
Parenthetically
, I've dragged the lake (so to speak) hoping to discover what Kleenex's former members have been up to since Liliput separated in the mid 1980s, but details are scant -
that's to say: non-existent.
Other than
Klaudia Schifferle
's well-documented subsequent career as a prolific & highly respected painter / sculptor, the only other information I've found refers to Marlene Marder's work with the
World Wildlife Fund
. Any more for any more?
Set-list:
You / Nighttoad / Hedi's Head / (Unknown) / Madness / (Unknown) / Nice / Ain't You / Lust - Thumblerdoll / I Love You (1) / I Love You (2) / Beri-Beri.
●
Never mind the bollocks