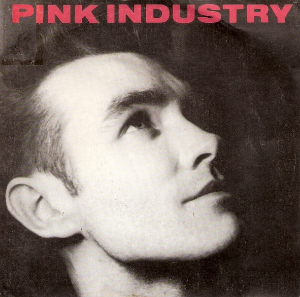 "
Nothing that's got any potency is ever accepted by the established art world at the moment of potency... it's only in retrospect that they're able to assimilate it into their culture
" - Jayne Casey talking about the KLF, though she might just as well have been talking about her own unjustly neglected Pink Industry.
Big In Japan & Pink Military - two storied arbors of Merseyside's punk &s post-punk eras ("
A magical portal where a generation of Liverpool musicians discovered the lexicon of life",
she says) which both included Jayne as vocalist - have never really captured my imagination (
look, I've tried, but...
). Pink Industry, however, are a band that I've admired since the early 1980s - from the moment I heard John Peel broadcast their penultimate session (of four) for him. August 1983, in fact.
Following the dissolution of the short-lived (but highly regarded) Pink Military in 1981, Jayne dispensed with the idea of joining another default-4-piece post-punk guitar band, choosing instead to collaborate with local multi-instrumentalist Amrbose Reynolds (who'd also played briefly with Big In Japan, as well as the embryonic Frankie Goes To Hollywood). Pursing a distinctly more electronic (& experimental) direction than before, the duo operated a revolving door policy as far as supporting musicians were concerned, though guitarist Tadzio Jodlowski would be recruited on a full-time basis in time for their second LP.
Perpetually hampered by a debilitating dearth of funds & a frustratingly "make-do" collection of equipment, it's (arguably) the band's fleshed-out BBC sessions that capture them at their most impressive. Sadly, said recordings are only accessible via grainy Youtube uploads (from disintegrating timeworn cassettes) nowadays - though a handful of them allegedly appeared on a limited edition pressing of an already impossible-to-track-down Brazilian Pink Industry compilation CD a few years ago. Of their trio of cheaply recorded (at home) but near-perfect LPs, only the first, 1983's Low Technology, has ever been reissued - carefully repackaged & sympathetically remastered by Germany's
Isegrimm
label. It's a dispiriting situation, but perhaps Jayne & Ambrose prefer it that way? After all, sometimes it's better to simply draw a line & walk away...
1984's provocative "
What I Wouldn't Give
" 7" - with it's cheeky Morrissey-bedecked sleeve - slid briefly into the top ten of the independent singles chart upon release but still passed most people by. A lot gem, it's one of Pink Industry's finest productions: Jayne's carnal drawl - a sort-of
Marlene Deitrich-meets-Lou Reed
affair if you can imagine that? - weaves an enticing path between Ambrose's languid dual basses, the pulsating drum machine, & an apparitional sax submerged in a slough of opiated sound effects. An unusual, thought-provoking, & curiously timeless record by one of the '80s great "lost" bands.
● Leave it buried at the bottom of the bed