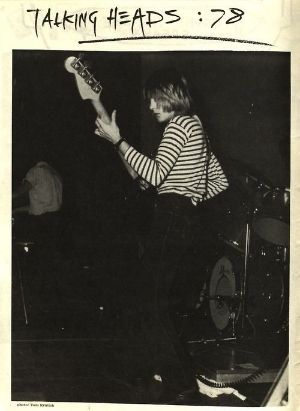 By the time Talking Heads played this December 1977 show, their "Psycho Killer" 45 was already an established underground hit & David Byrne was well on his way to becoming a commanding on-stage presence - terse & economical rather than, as per somewhat muted earlier recorded performances, nervous & reticent ("
I was a peculiar young man
", quoth he, "
borderline Asperger's I would guess
").
With Jerry Harrison on-board, filling out their once-skeletal sound with keyboards & additional guitar, the band sound lean, tight, & super-confident. Recorded at Bill Graham's Old Waldorf music hall in San Francisco, their set was broadcast on local FM radio & quickly bootlegged as part of the oft-referenced Sharp Objects series. In addition to offering an opportunity to hear formative versions of these songs before Eno fed them through his subtle textural processing devices for More Songs About Buildings & Food, it's also
far
better than anything on the officially released - &
profoundly
disappointing - The Name Of This Band Is Talking Heads live LP.
Sadly there were no Question Mark & The Mysterians covers on this occasion, just a smidgen of 1910 Fruitgum Co. flavoured bubblegum.
n.b. Tina Weymouth photograph taken from Big Star #3, pub. 1978.
Set-list:
Uh-oh, Love Comes To Town / With Our Love / The Book I Read / Artists Only / Stay Hungry / The Big Country / New Feeling / Thank You For Sending Me An Angel / Who Is It? / Psycho Killer / No Compassion / No Compassion (Reprise) / 1-2-3 Red Light.
●
I wish you wouldn't do that