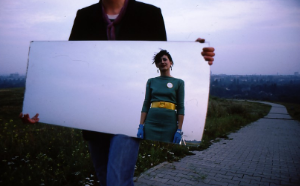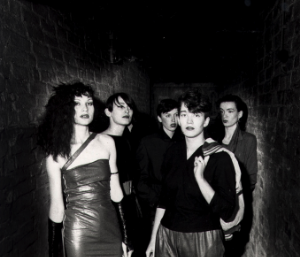 "Bettina (Köster) & I ran this store called Eisengrau in Golzstrasse. It was a clothing store, but also a hangout for peopl eot exchange ideas & listen to music. There weren't many places like that in West Berlin. We had a pinball machine that someone had brought round. It was a big, empty store we had painted iron grey. That's where the name came from. We sold dyed shoes & T-shirts from New York by Wiebe whose clothes we had on commission. Wolfgang Müller sold his fanzines. And out of sheer boredom I put up a knitting machine & designed by own knitwear - lots of grey & colours that didn't match, weird patterns, simple hems, fringes & those multi-coloured knit pants for men. Later, I continued the store with Blixa Bargeld & we also sold the Eisengrau Allstars Tapes, which were live & rehearsal recordings. Unfortunately I don't have a single one left.
The first Mania D. took place in September 1979 in Wuppertal. We rehearsed in the basement of Blixa Bargeld's storefront apartment in Langenscheidstrasse. Blixa wanted to start a band too, & asked us if we were interested in joining. We said "Sure we do!". Those were the beginnings of Einstürzende Neubauten. As spontaneously as we came together, we went our separate ways again. The most important thing for us was having fun, getting along. We didn't have a business strategy or anything, like they did in England, where pop music was conquering the world.
We were strong women, not delicate fairies, not flute players. We wanted to make a point of that. The hippies did the exact opposite. Although I did knit. But on a knitting machine. That was the slight but significant difference!
" - Extracts from a conversation between
Gudrun Gut
& Robert Defcon, June 2014.
Recorded at Düsseldforf's
Ratinger Hof
pub & the
SO36
club in Berlin (which, remarkably, is still open for business), released in miniscule quantities (possibly as few as 20 copies) on their own hand-crafted Eisngrau cassette label, & allying punishing post-punk bedlam with clandestine Weimar-era cabaret jazz, the music contained on this often astonishing Mania D. tape (their only other "official" release besides a precursory 3-song 7") reminds me of
absolutely nobody else
. Virtually every other Eisengrau title I've heard to date has been just as extraordinary - be it an anarchic early Einstürzende Neubauten performance or the eccentric Die Tödliche Doris' vulgar vaudeville - indispensable stuff. Box-set now please.
The striking colour photographs were taken on location at Teufelsberg (aka Devil's Mountain), Grunewald, West Berlin by saxophonist
Eva Gössling
in 1979.