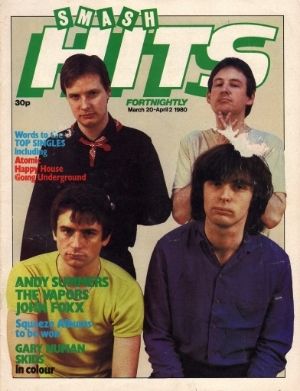 One of the first & best British new wave bands, XTC scraped into the U.K. charts a handful of times during their long & turbulent "career in rock" but never quite captured the greater listening public's imagination or gained the support of the (then) all-important serious music press, earning themselves the undeserved (& peculiarly English) epithet of "
irreverent underachievers
".
Hailing from nethermost Swindon
- "
a gritty little concrete industrial blob
" as their agreeably eccentric frontman Andy Partridge once painted it - this unabashedly provincial ensemble formed in the early 1970s & stumbled along under a succession of ill-considered handles (Zip Code & The
Helium Kidz
, Star Park, Skyscraper, The Snakes), before settling on "XTC", around the same time that they discovered punk & began mailing demos to John Peel. Stylistically scattershot - much to their record company's chagrin &, ultimately, to their own fiscal detriment - their first two Virgin albums came & went in a squabbling maelstrom of Farfisa-infested, adrenalin-chraged post-punk power-pop. Merely frenetic on vinyl, their new wave-era live shows could be
heart-stoppingly
ferocious, wildly accelerated affairs, as this cudgelling FM radio broadcast affirms.
Recorded (yet again) at San Francisco's
Old Waldorf Music Hall
on 25th February 1980, the first show of a 2-night residency, XTC's set herein is an unusual selection of classic early singles ("Making Plans For Nigel" had recently scrambled into the top 20 in the U.K. & Canada), superior LP tracks (Real By Reel", "Battery Brides", "Complicated Game", the little-heard "Crowded Room"), & a few rarely-performed B-sides (I don't think I've ever heard them play "Heatwave" or "Instant Tunes" before). It's split fairly evenly between Partridge & his prudent songwriting foil Colin Moudling, & the disparities between the duo's compositional styles couldn't be more pronounced: inserting Colin's measured "Ten Feet Fall" (incidentally their debut U.S. 45) between the spasmodic double-whammy of Andy's "Scissor Man" & "Heliopter" here illustrates how melodically divergent the two of them were. At their finest - & particularly during Go2 or Drums & Wires' most inventive moments - early XTC sounded like a breakneck hybrid of Devo & The Kinks, minus the former's absurdist mechanised theatrics of course, but steeped in the unassuming parochial essence of Ray Davies' pebble-dashed lyrical Everywheresville.
Following XTC's dissolution in the early 2000s, Colin retreated into wilful non-musical obscurity & hasn't seemed to be in much of a hurry to talk to anybody since, but there are dozens - perhaps
hundreds
- of Andy Partridge interviews online. I recommend you do yourself a massive favour & read
all
of them, beginning with
this
relatively recent & particularly candid one. Then go & check out his inimitably unorthodox boutique
record label
. He may be a certified garden shed looney & a walking disaster area but I can't help liking him.
Set-list:
(Intro tape) / Beatown / Real By Reel / When You're Near Me I Have Difficulty / Life Begins at the Hop / The Rhythm / Meccanik Dancing (Oh We Go!) / Heatwave / Scissor Man / Ten Feet Tall / Helicopter / This is Pop / Battery Brides (Andy Paints Brian) / Statue of Liberty / Instant Tunes / Crowded Room / Are You Receiving Me? / Complicated Game / Making Plans For Nigel.
n.b. Eternal gratitude (once again) to Mr. Hammer.
● Instant Tunes