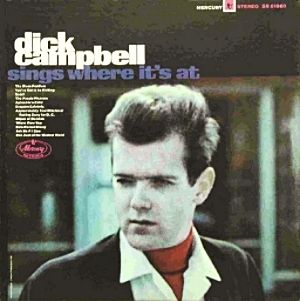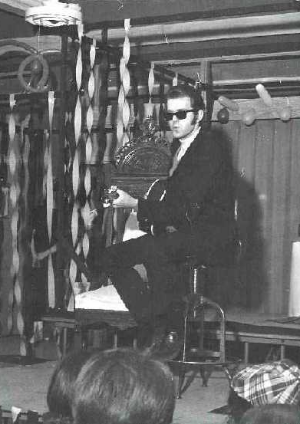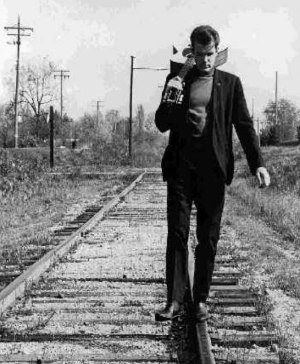 "
In 1965 I played in a band in Massachusetts, Dick Campbell & The Scarlets, as a guitarist, lead singer, & writer. We cut a demo album in Boston. A friend of mine had once met Gary Usher (close friend of Brian Wilson & co-writer of his early Beach Boys masterpiece "In My Room") & through him I sent a copy of the demo tape to Gary in California & he liked it. He called me to say he thought he could use some of the songs I'd written with other artists & that I should come to L.A. to write & work with him. That summer I started out by car for California, but stopped in Chicago to see what reaction I might get to the album from the labels there. Vee Jay wasn't interested, & Chess was into black artists, but Mercury liked some of the tunes & wanted to publish them. Mercury particularly liked a couple of my folk rock type tunes, & moreover, since Columbia had Dylan & they didn't, couldn't I write 10 more & they'd cut an album of me singing them? Now, in hindsight, I probably should have continued on out to the coast & gone to work for Usher then & there since most of his happening stuff occurred in the '60s. But instead, I signed a deal with Mercury Records & recorded Dick Campbell Sings Where It's At, which was pretty much a blatant rip-off of Bob Dylan.
To be sure, I was backed up by some very good musicians who have gone onto much bigger things since this project. There was Mike Bloomfield on lead guitar, just fresh from recording with Dylan on the Highway 61 Revisited LP. Marty Grebb of the Buckinghams also played guitar & Paul Butterfield was on harmonica. Mark Naftalin (another Butterfield acolyte) played organ & Sam Lay (a member of Dylan's band during his polarising Newport '65 set) was on drums. A kid from a local group called The Exceptions - Peter Cetera - played bass & he later had a brilliant career as the lead singer for Chicago. By the time I got done spinning my wheels in the Midwest (including a tour with The Guess Who, an appearance at The Bitter End, & marriage plus 3 children) it was 1969 before I got out to L.A. & went to work for Gary Usher.
"
Though much of Sings Where It's At's charm derives from it's audacious & incessant ersatz Dylanisms, further redeeming qualities seep through in due course, Dick's stylistic remit ultimately having been markedly broader than simply replicating "
that Wild Mercury Sound
" Zimmy was hungrily pursuing. Nonetheless, I'm still unsure as to whether I should listen to it at face value or not - was it simply a better-than-average cash-in, or is there an element of deadpan parody at play, for instance? Wittily satiric titles such as "Despair's Cafeteria", "Don Juan of the Western World", & "Approximately Four Minutes of Feeling Sorry For D.C." allude to the latter, but the entire album is such an entertaining listen that I don't think it really matters as, at half a century old, it's obviously something more substantial than mere kitsch appeal that keeps me tuning in.
Ridiculously, it's never -
never!!
- been reissued.
● The Blues Peddlars