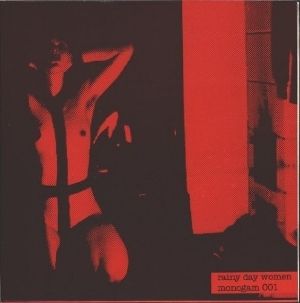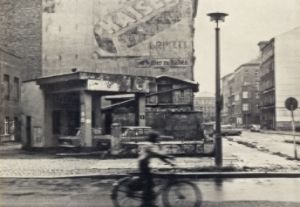 Apparently, back in the late 1970s, West Berlin's governing Senate operated a generous policy of offering super-cheap loans of several thousand Deutsch Marks to vermählten frish (newly wed) settlers. Realising it was too good an opportunity to ignore, Monogam Records' founders Michael Voigt & Elisabeth Recker entered into a literal marriage of convenience to finance the pressing of their initial brace of releases, a sequence of excellent NDW/post-punk 7"s that included Rainy Day Women's eponymous debut. Rainy Day Women was Michael & Elisabeth's own project - frigid synths, scratchy guitar, numb vocals - that's them on the sleeve. Definitely not to be confused with the sapless Australian indie featherweights of the same name.
Though it existed for less than 2 years, Monogam found both the time & money to shepherd records by the emerging
Einstürzende Neubauten
(their debut single in fact), Mania D., Die Haut,
Mark Reeder
's Die Unbekannten, P1/E, & Rudolph Dietrich (an early member of Kleenex), as well as Rainy Day Women's only other release - an impossible-to-find
untitled 4-song cassette
with little-to-no packaging or extraneous information.
By the mid '80s, having retired their joint imprint, the Voigts were both moving within Nick Cave's caliginous circle: Michael's People's Records financed the recording of Honeymoon In Red - The Birthday Party's troubled collaboration with Lydia Lunch - but ran out of money before it was completed (the tapes were subsequently mislaid for several years), while Elisabeth dated the (cough) "Black Crow King" for a time following his split with his long-term partner Anita Lane.