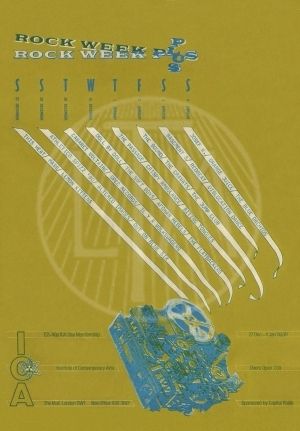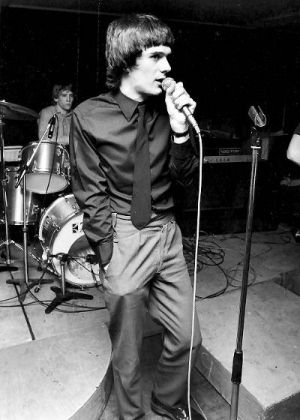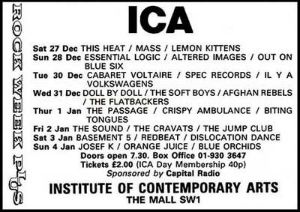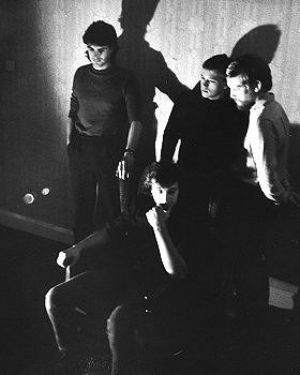 Like many of Manchester's foremost punk-catalysed musicians, lifelong friends Alan Hempsall (vocals) and Robert Davenport (guitar) originally formed
Crispy Ambulance
after witnessing the Sex Pistol's Manchester debut Lesser Free Trade Hall performance in 1976. Cryptically (and brilliantly) Christened by close friend Graham Massey (Biting Tongues / 808 State), the duo played their first gig on 1st January 1978 at a youth club in Stockport, with Massey stepping up to add electric violin on a couple of songs. Keith Derbyshire (bass) and Gary Madeley (drums) were recruited shortly thereafter - thereby establishing a line-up that would remain steadfastly in place for the duration of the band's existence, even after their confusing change of monicker (to Ram Ram Kino, taken from a German sex cinema) and defection to Psychic TV's Temple label (following a swan-song Crispy Ambulance performance at Nottingham's long-forgotten Ad Lib club in October '82). The same four core members reformed 17 years later at Manchester's Band On The Wall and continue to tour and release the occasional album, often-as-not with Massey at the controls.
"
The motivation for formation for me was a combination if seeing the Sex Pistols at their first Manchester gig in July 1976 in front of an audience of about 40, made up mainly of Bowie clones and hippies, and seeing Magazine's first gig. The latter had a more immediate effect, with me forming Crispy Ambulance a mere six weeks after seeing Magazine. None of our early tunes passed the test of time, mainly because it took about 18 months to find an identity. People asked about (the name) and how it originated every time we did an interview. At the time every other band was called "The..." - fill in the blank space - whereas our name gave nothing away with regard to image, musical style, etc, but at the same time captured the imagination.
Joy Division stumbled upon us in July 1978 at a gig with played in Manchester and they liked our approach, even if the material was a little weak - to say the least. They dragged Rob Gretton, their new manager, down to see us some months later and, as a result, we did a gig with them at The Factory around the time that Unknown Pleasures was released. Tony (Wilson) never liked us, but suffered us because Rob liked what we did. Since he had become an equal shareholder (in Factory Records, following Ian Curtis's death) Tony had no choice but to bite his lip. Tony craftily got us off his back by depositing us on Factory Benelux, which we didn't object to because Tony was only making things difficult for us on Factory, whereas Michel Duval, boss of Factory's Belgian counterpart, genuinely liked us and had an enthusiasm for the records almost as strong as our own
." - Excerpts from an interview with Alan Hempsall by James Nice of
Les Temps Modernes
.
Crispy Ambulance were mocked from the out-set as artless provincial Joy Division plagiarists, and took a lot of flack for their unfashionable beards and (gasp) flares, though musically they had as much in common with the dystopian prog of
Obscured By Clouds
or
Space Ritual
than
Unknown Pleasures
. Their only Factory-era long-player, 1982's unfairly neglected
The Plateau Phase
, is one of the label's finest "lost" releases: mystical, elemental and meditative, but never as relentlessly despairing or apocalyptic as Joy Division. Regrettably, much like The Wake's
Harmony
and Minny Pop's
Sparks In A Dark Room
, it's been written out of most histories of the label in favour of its obstreperous (and remunerative) Madchester era. Their storming January '81 appearance at the ICA's annual Rock Week (supporting The Passage and in the company of Cabaret Voltaire, This Heat, The Blue Orchids, the Soft Boys, The Cravats, Lemon Kittens, Altered Images, and most of the Postcard bands) was scathingly dismissed in the following week's NME as "
so uninspiring and uninspired that they do not deserve to waste any more of this space
". No doubt they were too busy grooming Kid Creole & The Coconuts for success instead?

Set-list:
Egypt / Come On / Drug User, Drug Pusher / New Violence / Batman - Dracula / Hell's Bells / Deaf / The Presence / From the Cradle to the Grave / October 1st.
(Sound quality = a cautious B, i.e. crude in places, but surprisingly listenable considering the recordist's Walkman was concealed amongst the ensconcing folds of a dead man's overcoat.)
●
Nightfall ends the ceasefire