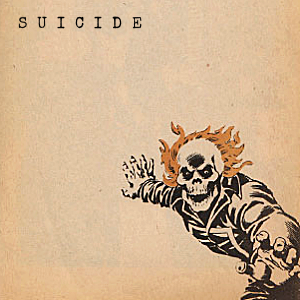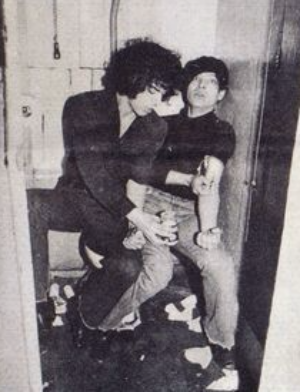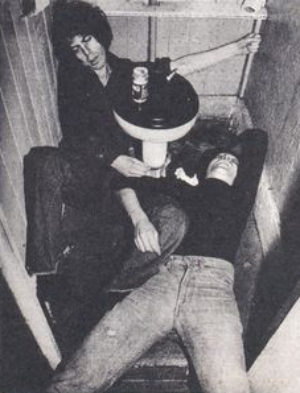 Suicide's eponymous debut LP, a demonstrable (punk) rock music milestone, was released in December 1977 on manager
Marty Thau'
s Red Star Records to complete bemusement in the U.S. -
Rolling Stone
magazine dismissing it as "
absolutely puerile
" - but to immediate and voracious deification by the British music press. Since the mid '60s, Thau had pursued a career in management and publishing for the Buddah and Paramount labels, concurrently marketing several of that decade's biggest bubblegum hits while working on early solo albums by Van Morrision (
Astral Weeks, Moondance
), John Cale (
Vintage Violence
), Cass Elliot, and Biff Rose. Quitting Paramount in 1972 to champion the New York Dolls' cause, he quickly immersed himself in N.Y.C.'s mushrooming underground scene, shepherding the Ramones, Blondie, and Richard Hell (amongst others), and subsequently founding his own label, the aforementioned Red Star, to showcase local talent.
Brooklyn's combative Suicide were the first band he signed, on the basis of a demo tape (not this one) passed to him by
Phibes-ian
organist
Martin Rev
. Having spent the previous half-decade performing them live, Rev and frontman
Alan Vega
knew the songs back-to-front, and
Suicide
was recorded in 4 intense days at
Ultima Sound
- an out-of-town facility frequented by Bruce Springsteen, Dusty Springfield, James Taylor, and the Ramones in it's previous 914 Studios incarnation - with dub-influened producer
Craig Leon
(
the effects on Vega's lurid vocals were achieved with the same Eventide delay unit Lee "Scratch" Perry was so enamoured of). Once the sessions were complete and Leon had returned to California, Thau remixed several of the tracks, adding further layers of eerie delay, while Vega completely changed (and vastly improved) the lyrics to "Frankie Teardrop", perfecting his unnerving
tour de force
. (n.b. Jump to the comments section for some clear-cut elucidation on this subject from
Mr. Leon
himself.)
It's Leon's "unfinished" mixes that I've included here - historically they've been consistently mis-labeled as "1977 demos" so it's possible you may recognise some of them. They're all noticeably different to their Red Star variants, and bookending the session are 2 versions of the hitherto unreleased "Whisper", a crooning '50s-style ballad fronted, for once, by Rev rather than Vega. Though the alternate early attempt at "Frankie Teardrop" herein was belatedly released (as "The Detective Meets The Space Alien") on the B-side of
a limited edition Blast First 10
" a few years ago (long gone, I'm afraid), the rest of these recordings remain otherwise unavailable.
Officially
, at least.