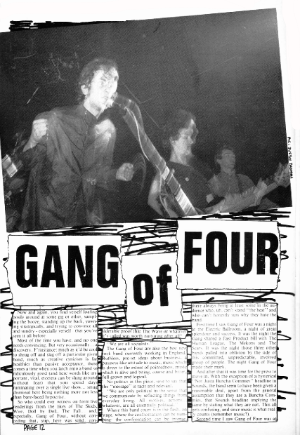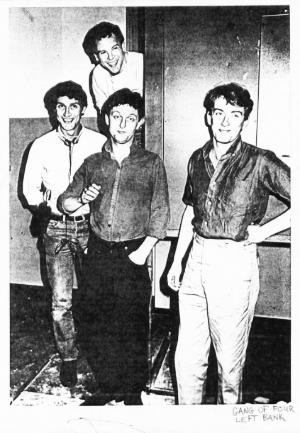 "
I remember when I was about 9 or 10, listening to "Satisfaction" and getting very excited about it. I would walk to school and sing it all the way and walk home and sing it all the way, thinking it was the greatest thing. I always liked music that had this strong, rhythmic side to it, which grooved. My cousin showed me how to play "Satisfaction" on the guitar, that's what kicked me off with playing stuff. A lot of the things that I liked growing up were American bands: the Velvet Underground and The Band, who were one of my favourite groups, James Brown, Funkadelic, I loved all that stuff. I was also very impressed with Hendrix, listening to him endlessly. When I was growing up there were a couple of different bands that I would play with in the local area around the mid '70s. There was one called the Bourgeois Brothers (laughs). It was just simple, riffy guitar music. I was quite into Dr. Feelgood, I was very into that minimal, stripped-down nature, that kind of barely suppressed violence of the dramatic presentation of their personas onstage. I thought they were incredibly powerful, they were extremely influential on Gang Of Four.
When punk started, Gang Of Four were already writing songs and doing stuff. By the time we came to make our first recordings in 1977 we'd already assimilated the punk thing and got a take on that element. But we were never really "punk". Obviously it has some relationship to punk but wasn't that in itself. If you look at the Sex Pistols as a kind-of archetypal punk band, it's not that different from Black Sabbath. It's rhythmically unsophisticated, it's really on-the-beat rock drumming. Same with the guitar - plug it in and turn it up to full distortion. Gang Of Four was radically different from that. The guitar was very staccato, very stripped down, very repetitive, loop-based. The drumming was basically funky but not through copying black music, more through simply deconstructing the nature of drumming and where you place the beats. Hugo (Burnham) and I would argue endlessly about what the drum parts would be like - anything that sounded like rock drumming I would change. The tunes had vocals but were very rhythm and phrase related. Jon (King) would sing stuff that he'd come up with, we'd argue about it and come to some kind of resolution. You could tell by listening to Gang Of Four music that punk had happened, but it definitely wasn't "punk" music." -
Excerpted from an interview with Andy Gill by
Jason Gross
for
Worldly Remains: A Pop Culture Review
, October 2000.
I'm been listening to this tape a lot lately. Though it's unquestionably a(nother) covert "Walkman under the jacket" affair, it's spiked with the urgent kinetic dynamism that most GO4 performances from the
Entertainment!
era (still, somehow) transmit - i.e. unruly youth vociferously celebrating the taut, syncopated din of deafening electrical discord: contagious buzz and drama.
Recorded in Southampton, Hampshire's infamously debauched rock 'n' roll Valhalla (sic), this fiery set is notable for its inclusion of the unreleased "Blood Free" - a song GO4 often played live back in '79-'80 but which they never got around to recording (it's a shame they couldn't find room for it on
Solid Gold
) - and a couple of somewhat improbable encores: highly charged covers of fellow Leeds University alumni the
Mekons
and Edinburgh's indefatigable
Rezillos
. Who says Revolutionary
Marxists
don't appreciate a little good clean rock 'n' roll fun every once in awhile, eh?
Set-list:
I Found That Essence Rare / 5:45 / (Love Like) Anthrax / It's Her Factory / Blood Free / Contract / Damaged Goods / Not Great Men / Natural's Not In It / At Home He's a Tourist / Return the Gift / Ether / Armalite Rifle / Rosanne (Mekons cover) / Glass / I Can't Stand My Baby (Rezillos cover).
● White noise in a white room