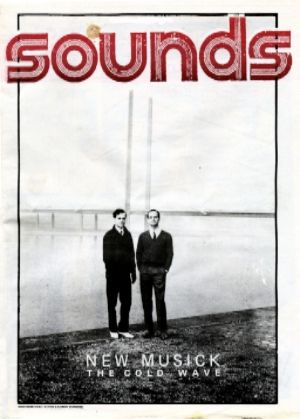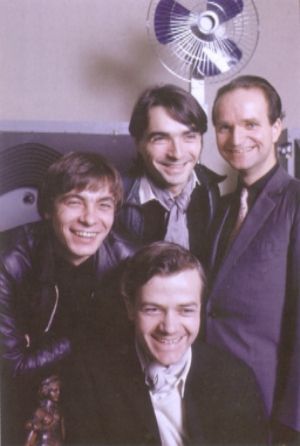 It wasn't until 1981's globe-traversing Computer World tour that
Kraftwerk
made their first appearance in Nottingham, my home town. Thus far, it remains their only visit, though the current, significantly modified incarnation is scheduled to finally return to the city in June of this year, a mere 36 years later, with only frontman
Ralf Hütter
still present from the classic '70/80s line-up.
Their debut show in "
the heart of the Midlands
" took place in front of a capacity crowd on Wednesday 24th June at the recently opened, but already somewhat dilapidated, Rock City venue. Notorious for its comically inadequate sound-system, malodorous sticky carpets, rancid shit-stinking toilets, and daunting Hell's Angels bouncers (though, in its favour, advance tickets cost a mere £3.50), its biggest claim to fame was that its manager would wind up being head-hunted by Factory Records' pre-eminent Hacienda club - with The Garage's
Graeme Park
in hot pursuit - just in time for the drug 'n' gun fuelled Madchester phenomenon. On reflection, Rock City hardly seems like a suitable locale for a prestige performance by Düsseldorf's finest, but the recorded evidence suggests
die Mensch-Maschine
pulled it off with aplomb as the audience's response verges on the rapturous.
Kraftwerk, of course, were still a relatively hands-on proposition at this point: the synths often slip out of tune and their timing is often a little rickety, while Ralf still counts in some of the songs with an amusingly anachronistic "
Ein, zwei, drei, vier
" and even responds to the occasional heckle. Whereas their current touring configuration could feasibly comprise Hütter and a fully-loaded USB stick, back in 1981 it was necessary that all four members be on-hand to tap in most of the sounds manually. Consequently, there's a humanistic, even
vulnerable
quality to parts of this performance (the elegant "Neon Lights" and "Ohm Sweet Ohm", for instance) that one simply wouldn't expect to hear nowadays, while audience participation introduces a good-humoured spontaneity to the undeniably
funky
rendition of "Pocket Calculator". The career-spanning set-list naturally focuses on their then-current
Computer World
album and its immediate, benchmark-defining predecessors, T
he Man Machine
and
Trans-Europe Express
, but - at almost two hours long - it also includes a surprising number of selections from the earlier
Radioactivity
, and even
Autobahn
's seductively morose "Mitternacht" makes a fleeting appearance. Possibly the biggest surprise is the climactic pitched-up version of "It's More Fun To Compute", whose expedited rhythm sounds
exactly
like one of
DJ Assault'
s bawdy late '90s Detroit Ghettotech jams. Take note also of the house DJ's gauche post-performance announcement -
all
gigs ended like this in the 1980s! Incidentally, Kraftwerk's 1981 U.K. tour dates were postponed at least once due to problems with their prototype video projection set-up, and the Nottingham show was originally scheduled to take place a month prior to this one.
Several versions of this recording have been circulated over the years, but this one is the very best I've heard. Much gratitude to the original taper, whoever (s)he may be, and to the enigmatic
Hiro 666
, whose skillful pitch-correction and remastering have made this 36 year old clandestine cassette sound far better than it reasonably ought.
Set-list:
Introduction / Numbers / Computer World / Computer Love / Home Computer / The Model / Neon Lights / Geiger Counter / Radioactivity / The Voice of Energy / Uranium / Die Sonne, der Mond, die Sterne / Ohn Sweet Ohm / Autobahn / Hall of Mirrors / Mitternacht / Showroom Dummies / Trans-Europe Express / Abzug / Metal On Metal / Pocket Calculator / The Robots / It's More Fun to Compute.
● Die Stimme der Energie